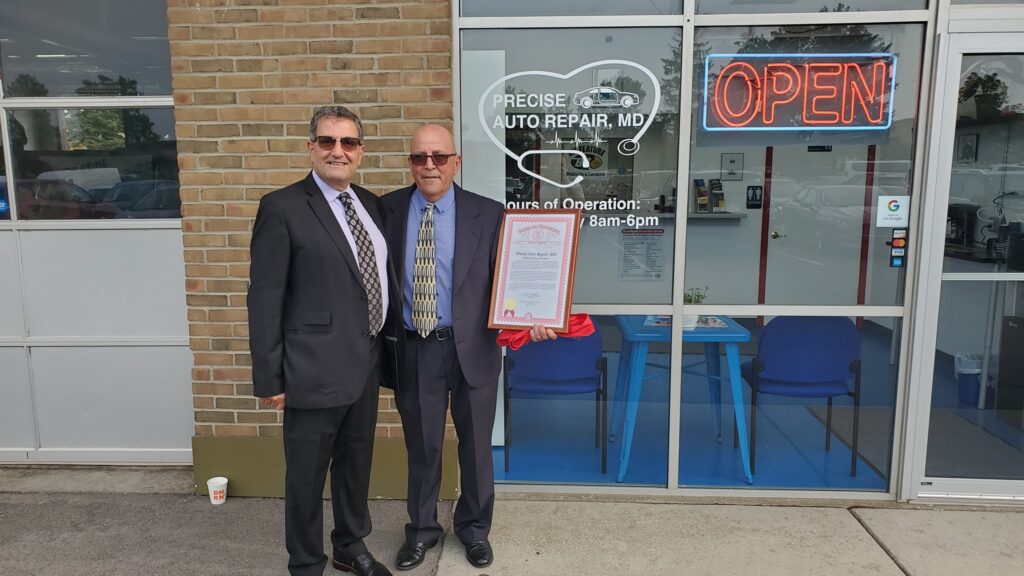 Precise Auto Repair MD
The auto doctors are in.
At Precise Auto Repair MD, we strive to provide an unparalleled level of customer service and repair quality level for all your vehicle needs.
This purpose has driven us as automotive specialists in our decades of combined industry experience. In 2021, we opened our doors in Novi, MI, and continue to deliver on this mission every day. The professionals at Precise Auto Repair MD have served countless customers and have gained a reputation for providing a stellar customer experience, and leaving you with the comfort and confidence that you received the best automotive service possible. If you've got a sick car, we invite you to come in, get a check-up, and we'll make it better.
Went in for an oil change and tire rotation for a long trip in going on. I received fast friendly service at a great price point. I will definitely be coming back for any of my cars needs.

Jeff Travis


March 16, 2022

I could not be happier after taking my care in to Precise Auto Repair. The owner and employees were impressively thorough and took care of some major safety issues that other mechanics hadn't noticed. The owner personally explained the importance of these repairs and the repairs itself were completed in just a few days. The cost was more than fair and I will not hesitate to bring my vehicle back here in the future! Thanks again!

Jackie Short


March 2, 2022

What an incredible experience! Such a great team of people giving the best service! It is such a relief to have an honest place to take my vehicles! If you haven't tried them, you need to! You will NOT be disappointed!!!!

Mary Kathleen Walsh


March 2, 2022

The owner, Brett, and the other employees at Precise Auto Repair are some of the most honest, friendly people I've encountered when looking for a place to fix my car. They explained exactly what was wrong and showed me how they would repair it. I have come back a couple of times when having issues with my car and have always had a great experience!

Katherine Koehler


March 2, 2022

I had front struts and timing belt replaced by Brett and his team. They gave me an instant quote when I initially stopped by and as you can imagine, it was significantly lower than the dealer upcharge. What really impressed me was when they were done with the service, they showed me the old part and explained why it needed to be changed. The experience was well above what you expect from a typical auto repair shop. I will continue to use Precise Auto Repair MD and would HIGHLY recommend it to others as well.

Hiral Patel


March 23, 2022

I was having some issues with my car: door handles were sticking (wouldn't latch and the door would stay open), change oil light indicator came on (when I still had 5k miles to go) and I needed the keyless entry code reset. Within minutes Brett and Joe were working on my car. Joe jumped into the car, reset the change oil indicator, and then started on the reset of the keyless entry code. Meanwhile, Brett walked around the car lubricating the door handles and explaining to me why they were sticking.

Thirty minutes later, Joe handed me a post-it with my 5-digit keyless code and I was ready to go. Thank you, Brett and Joe, for working on my car and getting everything done in a timely manner. I'll definitely be back and have recommended Precise Auto Repair to friends.

Farah Shammami


March 2, 2022

Excellent, compassionate, professional service. I drive 15 miles to get their expert and trustworthy service.

Craig Nash


March 24, 2022

Five stars! Extremely knowledgeable and talk about stellar service! I recommend you to go to this place with any of your vehicle issues. I can't thank them enough and now I'm stress free!

Gloria Swenders


March 2, 2022

I had to take some time out of my day to share my experience at this car shop . My transmission went out on my vehicle and I did not know where to begin . I found this car shop on Google and took a chance based off of the reviews. I'm so glad I did. The owner Brett and his staff were so kind and made me feel like family.I had one of the best experiences here. Customer service was phenomenal. The shop was very clean and comfortable. Everything was explained to me from the beginning to end. I highly recommend this place. I honestly do not see myself going anywhere else just because I trust them. Trust is a big word but honestly I can say that Precise Auto stands behind who they are and what they are about. I'm so happy that I found you guys and I appreciate all that you do. Thank you!

Krystal Marshall


March 2, 2022
Curated, Accredited Technicians
The technicians at our shop were hand-selected, and have decades of combined experience. They are dedicated to providing high-quality repairs to keep you safe and happy.
The Precise Promise
Our world-class warranty covers all aspects of the repair process.
Satisfaction Guaranteed
We're committed to providing an amazing experience. Our shop only uses parts from reputable brands to ensure that your vehicle is always primed.